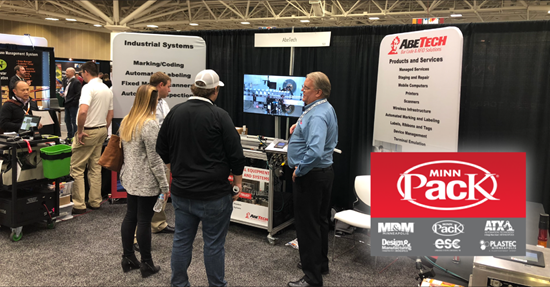 Last week AbeTech exhibited at Minnesota's only packaging event, MinnPack! MinnPack is where professionals in labeling, automation, food packaging, package design, and more meet to discuss industry trends and get a look at cutting edge technology. MinnPack is a perfect expo for AbeTech, as we have in house engineers that specialize in your industrial equipment needs.

Below are some of the topics we heard questions about at our booth. You'll find related resources to help you in your search for increased quality, productivity and efficiency in your operations.
Line control and package inspection
The star of the booth was AbeTech's own Tevia Auto Identification Controller. The Tevia controller is a plug and play solution perfect for product and label validation. In fact, AbeTech has helped major US food manufacturing companies use Tevia controllers and fixed mount scanners/readers to meet regulatory compliance requirements.
Install takes only four hours per line on average and can cost up to 75% less per line compared to competing systems.

Blog Post: Tevia FAQ
Case Study: Contract Manufacturer Meets Regulatory Compliance

RFID
Another hot topic in the booth was RFID tagging and tracking. Asset tracking and inventory management are some ideal use cases for RFID. RFID can be beneficial when you don't have direct line of sight to the item you want to track. RFID can also help protect your hardware investment by providing real-time asset tracking of your equipment.

Blog Post: 4 Signs Your Asset Tracking Solution Could Use An Upgrade
Blog Post: Better Inventory Management with RFID
Case Study: Collaboration Key to Successful RFID Deployment

Mobile Powered Carts
Increasing your workers productivity and efficiency is at the core of the products and services AbeTech provides. One creative solution is to replace print stations with mobile powered workstation carts from Newcastle Systems. Stop wasting time walking back and forth from pallet to printer and give your workers true mobility in the warehouse, office or shipping/receiving center.
The increased productivity gains and inventory accuracy means your mobile workstation will show ROI within 3-6 months.

Blog Post: How Mobile Powered Workstations Improve Your Process and Increase Productivity
Product Page: Newcastle Systems Mobile Powered Workstations

See you next year at MinnPack 2019!
If any of these hot topics sound like a good fit for your operations, reach out to AbeTech! We're always finding innovative ways to use the latest technology to increase our clients' productivity while forming long-lasting business relationships fostered by our knowledgeable support staff.

Join us next year for another exiting show, Thursday, October 23 – 24, 2019.
For more information and to register, check out MinnPack's website at https://minnpack.packagingdigest.com.