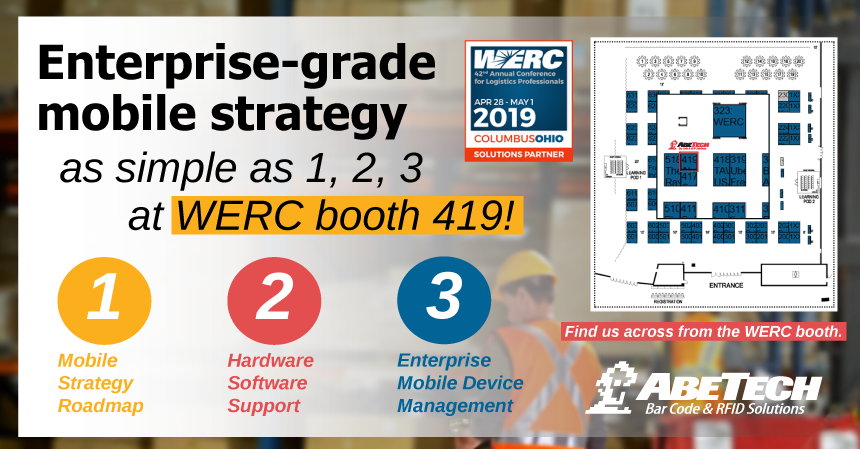 Going to WERC this week? If you want a true partner in the connected enterprise, don't miss booth 419.

Booth 419 is the place to be for an enterprise-grade mobile strategy that brings productivity and efficiency to your organization with a clear return on investment (R.O.I.).
AbeTech makes it as simple as 1, 2, 3.
1.) Mobile Strategy and Roadmap
You have a need for scanners, mobile computers, label printers, or wireless infrastructure? Let AbeTech join you on the road to a truly optimized mobile strategy. We will think beyond the hardware purchase and make sure you will have what you need 1 year, 2 years or 5 years from today.

2.) Optimized Hardware and Software
Don't purchase enterprise grade equipment the same way you purchase a stapler or printer paper. As a premium integrator of AIDC solutions, AbeTech will make sure the Total Cost of Ownership of your mobile hardware is realistic for your goals and that your current software systems are compatible with your new mobile devices.

3.) Managed Services for the Enterprise
Are you able to maintain your hardware and software with internal resources? Many of our clients have tried this route before and found issues down the road. Let AbeTech's Managed Services give you piece of mind when OS upgrades or security patches inevitably arise.

Three simple steps to a truly enterprise-grade, future-proof mobile strategy!
Follow these three steps and you will be sure to have a fleet of mobile devices that will stand the test of time. Productivity, efficiency, longevity and R.O.I. await!

Visit Bill Lewis at Booth 419 for more information and get the mobile conversation started. AbeTech has over 25 years' experience in mobile device management and warehouse efficiency solutions. Together we can leverage this expertise to your competitive advantage!

See you at WERC!
To schedule a time to chat with Bill, send him a message at [email protected].

If you're not going to be at WERC, but would like to chat, click here to shoot us a message.