AbeTech is a proud partner of Common Hope, a nonprofit working to end generational poverty in Guatemala through education, health care, housing, and family development.
We are excited to announce that AbeTech is Common Hope's May Share Hope Partner of the month! Check out AbeTech being featured in Common Hope's May eNews (click here)!
Watch for many ways to share HOPE with AbeTech and Common Hope this month, including joining AbeTech's Walk for Hope Team and walk on May 19th! Reach out to Brenda Essendrup bessendrup@abetech.com for more information about AbeTech's Walk for Hope!
As Common Hope's May Share Hope Partner, AbeTech is helping Common Hope to find sponsors for 12 students in Guatemala.
AbeTech knows first hand the power of sponsorship. As a company we have sponsored students for 15 years and have celebrated three graduations! We also have 13 students sponsored by AbeTech employees, and some of these same employees have traveled to Guatemala on Common Hope Vision Teams and met their sponsored student!
This month's Power of Hope Sponsorship Gallery features students who are brand new to the Common Hope Familia. They and their families have just joined the Common Hope program, taking a step forward to a better life. Personal relationships are at the heart of Common Hope's work, and Common Hope partners for lasting change. WELCOME these new students to both the Common Hope familia and your own family! BE THE HOPE and help us find a sponsor for these students TODAY!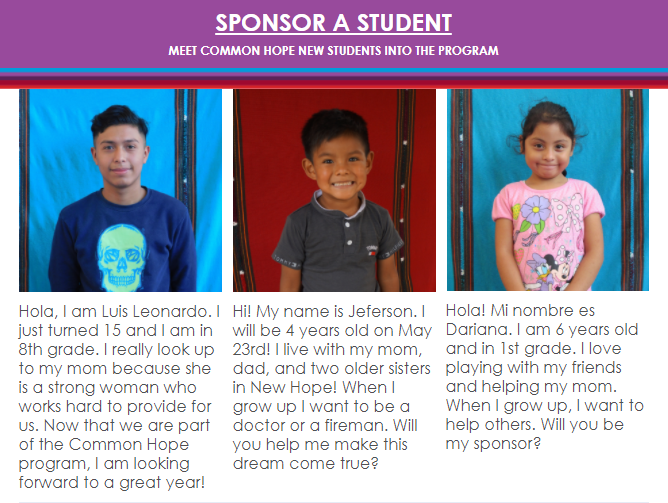 AbeTech's MORE THAN A MATCH!
AbeTech will match + 10% of your contributions to non-profits like Common Hope up to $500/year! Therefore, as a new AbeTech sponsor this month could double the impact!