Warehouse and distribution, manufacturing, and transportation and logistics companies understand that in today's competitive market it is crucial to have tools to measure your overall performance. Some companies evaluate financial statements, conduct performance reviews, or have business metrics to compare. What many miss, however, is an optimized wireless network can play a critical role in meeting these performance goals. In the industrial world, key performance indicators (KPI's) are the most common method used to determine how your warehouse is performing and forecast whether or not you are going to meet your business goals. Each KPI analyzes a specific process or operation and gives you a result that shows how well that process is doing by comparing it to past numbers and benchmarks.
Workers' performance, pay, and job security are often based on them meeting specific KPI's. A few examples of these are:
Inventory Accuracy

Receiving Efficiency/Cycle Time
Putaway Accuracy Rate/Cycle Time

Order management Picking Accuracy/Fulfillment Rate
Under-performing wireless networks make it impossible to meet KPI's
Most industrial workers are dependent on a reliable wireless network to perform their job. An unreliable wireless network with spotty coverage, poor connectivity, or low bandwidth can prohibit them from meeting those KPI's. This leads to extreme frustration and reduced employee satisfaction. In an industry that is already challenged with staffing shortages, you cannot afford to lose employees due to frustration caused by your under-performing wireless network, not to mention the loss in revenue that downtime has on the business.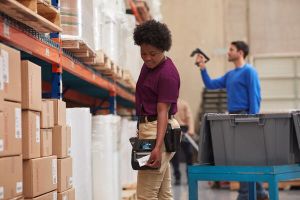 Optimized wireless networks don't happen by chance
Why take chances with something as important as your wireless network. Wireless infrastructures that are not maintained can be costly. Even the best-designed networks need to be audited and tweaked as your business changes. That starts with a wireless site survey. Wireless site surveys are must-have, prerequisites for businesses that want a functional, scalable, and resilient network. Wireless site surveys eliminate problematic guesswork and help companies avoid costly mistakes, downtime, rework.
Why work with AbeTech?
You could get a wireless site survey from any network infrastructure provider, but there are benefits to working with a partner who understands the nuances of industrial environments. AbeTech knows the ins and outs of the enterprise-grade mobile devices you will be using on your network. We are better prepared to give guidance than the average network installer. We've done this before, which takes the guesswork out of planning, installation, and deployment. Critical connection issues will be diagnosed accurately the first time: you will know where they are, why they're happening and whether they're being caused by hardware, software, or both.
For nearly 3 decades AbeTech has helped companies improve efficiencies and productivity and armed them with real-time visibility information that tells you what needs adjusted, expanded, modified and/or reconfigured. We provide wireless network solutions that make it possible for you to meet your KPI's and make smarter business decisions. Schedule an information gathering call to get the process started.