We've refreshed our website with a new intuitive design that gets you to connected technology solutions and strategy faster. At AbeTech we help streamline your work process and simplify your day and our new look reflects that.
First, a message from our President, Chris Heim:
Today I am excited to announce the launch of AbeTech's "Connected Enterprise" vision and website. Our clients have grown and evolved over the years. They are asking for intelligent edge, connected endpoint and sophisticated print solutions. We have grown with them and are proud to offer new products and services in response to their needs.
Our vision simply states:
"AbeTech helps technology leaders simplify their Connected Enterprise transformation. We Understand our client's challenges, Simplify their technology initiatives and Enable them to maximize their IT investments."
Supporting this vision is our U | S | E Methodology (Understand, Simplify and Enable). U | S | E is more than a proven process for doing good business and delivering consistent results, it is an expression of the values and mindset of AbeTech. We strive to help our clients identify their goals, understand their options and achieve results.
Below you'll find a quick overview of some of the new features of our website.
Solution Categories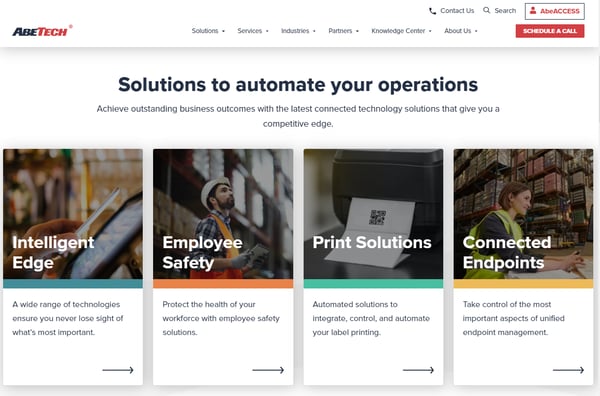 We've expanded our core offerings from barcode and RFID data capture technologies to include intelligent edge, connected endpoint and sophisticated print solutions. As you explore each of these new solution categories, you'll find use cases and related resources to help you make informed decisions.
Signature Services

In the services tab, you'll find all the signature professional services and support you've come to expect from AbeTech. From managed services to wireless network infrastructure design to application development services, we've got you covered.
Knowledge Center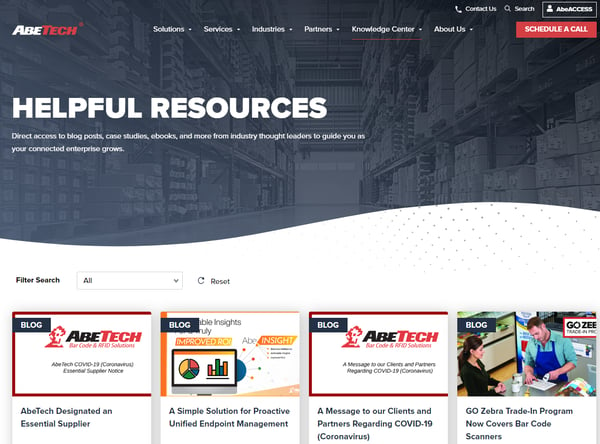 The knowledge center is your direct access to the latest thought leadership from connected technology experts. White Papers, case studies, ebooks, blog posts and video content help you make informed purchasing decisions. The right knowledge up front can lead to significant cost savings today and in the future.
Work with a Team of Experts
The internet of things is rapidly expanding; don't get left behind. Capture your intelligent edge with a team of experts who will guide you in your journey to the connected enterprise. Reach out today to schedule a consultation with one of our advisors to get started.